JASMIIIIIIIIIIIIIIIIIIIINE! DX ~
Today was supposed to be a super productive day... but alas 8D; I bummed around and wasted most it.
I decided to stop by the Meadows Mall. It's a bit farther than the other ones I usually go to, but aside from the outdoor outlet, it's the only one with a DISNEY STORE, so of course I suck it up and make the trip.
Anyway, there were these new 17" inch singing princess dolls. Of course, every one was in reach EXCEPT for Jasmine, so I tiptoe and reach above my head for her... And she proceeds to fall and hit face and my glasses hit my left eye ._____. BUEEEEEEEEEEEEEEEEE. it still hurts a little too >___>;
The real reason for stopping by the mall though was to pick up my copy of Toy Story 3 that I had pre-ordered. Of course temptation (in the form of a $20 off coupon among other sales 8D) got the best of me and I ended up buying 2 Toy Story shirts (one for me & one for Devin)and a Hamm Piggybank from the Disney Store. A pair of DKNY pants, an American Rag dress and a black denim blazer for Devin from Macy's. AND! I will admit, I have officially been corrupted by this series...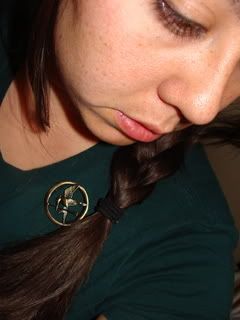 FWEE! Mockingjay pin, yay :D ♥
Which if you happen to be unaware, it's from The Hunger Games series by Suzanne Collins. It'd been a long time since I've read a series that fast, it's just easy to gobble up. If you happen to have a bit of time, it really is worth the read :] And though I'd normally be butthurt paying about $17 for a pin... for some reason you can't find them online, and the cheapest one on Ebay is a $36 BIN.
So yeah.
I'm just, EXCITED FOR LIFE! Starting the 18th, everything is gonna be awesomely amazing :3 I can't wait ~ HPatDH part 1 premiere, Devin, Friend Thanksgiving, A Perfect Circle concert, Disneyland, ACTUAL Thanksgiving, Tangled, 4 year Anniversary time ♥, Trans-Siberian Orchestra ~ *le~sigh*