FOUR ♥
I just happened to notice the time :3 So I might as well do this before I go to bed.
HAPPY 4 YEARS, BB ~ ♥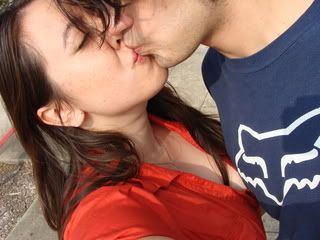 These types of kisses are more like *facesmooshes* X3
Devin, I think this past year was definitely our hardest. We actually fought for once, attempted to take a break, stupid things happened in our (local) personal lives, tears were shed and things were said (oh-ho I rhymed 8D), but I know we've both learned a lot from all of it... And it was worth it. We're definitely both more mature about us, and it makes me so happy to see how much we've grown since 2006.
I never fell out, but with everything that has happened this year I feel like I've fallen in love all over again. Our relationship right now is AMAZING and I hope things never ever change. I love you so so so so SO much, darling ♥
I know that year 5 will be even better, and I can't wait ~
♥